Everstream Appoints A.J. Lauzze as Director of Wireless Sales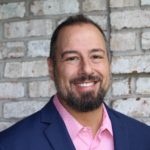 CLEVELAND – June 5, 2018 – Everstream has appointed A.J. Lauzze to the newly created position of Director of Wireless Sales. With more than 20 years of telecommunications experience, Lauzze is responsible for the continued growth and support of Everstream's macro and small-cell tower deployment for the industry's four primary wireless providers.
Everstream is a super-regional network service provider bringing fiber-based Ethernet, internet and data center solutions to businesses throughout the Midwest.
"AJ is a critical addition to Everstream. As we continue to add hundreds of miles of fiber and tower locations within our service areas, we are well-positioned to deliver both lit and dark fiber to support wireless backhaul and small cell 5G deployments," said Bill Major, Vice President, Sales and Marketing, Everstream.
"AJ is an industry veteran and key asset to Everstream's growth strategy in the wireless sector. We are fortunate to have his energy and expertise," Major added.
Prior to joining Everstream, Lauzze enjoyed a 17-year career with Crown Castle Fiber, formerly Lightower and Fibertech Networks. While serving as a Senior Enterprise Account Manager, Lauzze was responsible for earning the business of wholesale and enterprise clients throughout the Buffalo, New York, region.
Upon first joining the company as Project Manager/Outside Plant Engineer, Lauzze crafted a wireless business plan and presented it to the Sales team on his first day of employment. From there, he worked collaboratively with Sales to bring it to fruition.
During his tenure, Lauzze was awarded with Fibertech's Circle of Excellence twice, earned Lightower's Unstoppable Award for 2016, and qualified for President's Club in each of his 11 years as an account manager.
Lauzze has held key positions at American Fiber Systems and TEKsystems Telecom, both in Rochester, New York, as well as Otis Eastern Gas and Field Services in Wellsville, New York. Notably, he served as Co-Founder and Vice President, Operations, of Northeast Communication Design, with offices in Rochester and Watertown, New York.
"Everstream has a clear vision for its future, and I am eager to help execute it," said Lauzze. "The company culture is built on transparency and a genuine interest in helping one another reach a common goal. I am excited to do my part to help grow Everstream's wireless sales and better serve this sector moving forward."
Lauzze earned a bachelor's degree in sports management from Medaille College in Buffalo, New York, and an associate degree in criminal justice from Hilbert College in Hamburg, New York.
About Everstream
Everstream is a super-regional network service provider bringing fiber-based Ethernet, internet and data center solutions to businesses throughout the Midwest. We are the Business Fiber Network®. We focus on delivering best-in-class network solutions while providing an unrivaled commitment to customer service. With more than 10,000 route miles and comprehensive data center connectivity at 100 Gigabit speed, we provide the fastest network in our service areas. Everstream's network allows businesses to operate a converged IP network capable of delivering robust voice, video, and data services at speeds from 10 Mbps to 100 Gbps. For more information, visit everstream.net.
Contact:
Suzanne Scarpino
sscarpino@everstream.net
O: 216-302-2615