Bill Major Named a 2019 Distinguished Marketing and Sales Award Recipient
Major among 16 to be honored with Cleveland's oldest business award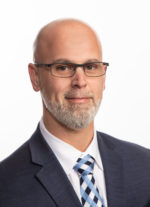 CLEVELAND – January 17, 2019 – SME Cleveland has named Bill Major, Vice President, Sales and Marketing, Everstream, as a 2019 Distinguished Marketing and Sales Award (DMSA) recipient.
Presented by SME Cleveland, DMSA is known as the profession's premier honor to acknowledge excellence and provide community recognition for outstanding sales and marketing achievements. Selection criteria is based on the demonstration of the highest business, professional and ethical standards. DMSA is considered Cleveland's oldest business award.
"Bill's leadership has elevated Everstream's Sales and Marketing team across our markets while his dedication to the business has helped to catapult the company to achieve an unprecedented level of success. Everstream's annual revenue has increased more than 300 percent since Bill joined the organization," said Brett Lindsey, President and Chief Executive Officer, Everstream, who nominated Major for this award.
Major joined Everstream in 2015 with responsibility for expanding and leading the company's enterprise, wholesale/carrier, and wireless sales efforts along with handling contract negotiation and management.
Under his leadership, Everstream has delivered more than $100 million in total contract value and grew its corporate footprint through the acquisitions of Great Lakes Comnet and Comlink in June 2016 and Lynx Network Group in February 2017. Major played an integral role in these acquisitions, which extended Everstream's presence into four contiguous states and more than tripled the size of the organization.
Major also has been a key contributor to securing and maintaining Everstream's corporate partnerships with the Cleveland Cavaliers, Cleveland Indians and Public Square. Notably, the second level of Quicken Loans Arena is the Everstream Founders Level, effective this season.
As a homegrown company headquartered in downtown Cleveland, Everstream is proud to support the Cleveland Cavaliers and Q Transformation project, and Major played an integral role in fostering and finalizing this partnership.
Throughout his more than 20-year career in telecommunications, sales and management, Major has remained committed to strengthening and improving Northeast Ohio. Prior to joining Everstream, he successfully held sales and operations leadership roles for several regional and national telecommunications companies.
Major is one of 16 DMSA recipients being honored from leading Northeast Ohio businesses, including Cleveland Clinic, Eaton, Key Bank and the Rock & Roll Hall of Fame.
Recipients will be honored at the 58th Annual Distinguished Marketing and Sales Awards gala banquet, on Thursday, February 28, at Executive Caterers at Landerhaven. This year's event also will honor Carl J. Grassi, Chairman, McDonald Hopkins, as the 2019 Business Executive of the Year.
About Everstream®
Everstream is a super-regional network service provider bringing fiber-based Ethernet, internet and data center solutions to businesses throughout the Midwest. We focus on delivering best-in-class network solutions while providing an unrivaled commitment to customer service. With more than 10,000 miles of fiber across five states and comprehensive data center connectivity at 100 Gigabit speed, we provide the fastest network in our service areas. Everstream's network is capable of accommodating converged internet, voice and data services at speeds up to 100 Gbps. For more information, visit everstream.net.
Contact:
Suzanne Scarpino
sscarpino@everstream.net
o: 216-302-2615