Everstream Careers
When you work at Everstream, you join a dynamic team of individuals who believe we are a part of something greater than any one of us. You join a company where collaboration, corporate transparency and a commitment to culture are paramount. You'll be challenged and supported, while given the opportunity to grow and develop in your career. If you're looking to take the next step on your path, consider joining ours.
---
Do What You Say You Will Do
"Do what you say you will do" — also known as #DWYSYWD — is Everstream's version of the Golden Rule.
Show up. Put forth the effort. Honor your commitments. For us, it's really that simple.
We believe in acting with integrity in our interactions with customers, vendors and our fellow team members. We don't want you to make promises that you can't keep. Instead, set an expectation and make it happen.
That's the Everstream way.
As President and CEO, Brett Lindsey has helped Everstream "do what you say you will do." Learn more about how Brett's leadership impacts our company culture.
Work Hard, Play Hard
"At Everstream, we have a lot of people who are passionate.
They're caring, very dedicated and knowledgeable — and we combine that with a workplace that's fun."
– Mark Dulmage, Design Engineer
Mark pretty much summed it up for us. Want to see for yourself, follow us @everstreamlife on Instagram.
Don't have Instagram? We've got you covered. Just click here.

---
"At the end of the day, it's about our customers and our people and the amount of investment that we put into both of them to make certain that our customers have an experience that is above and beyond what they would get from one of the other competitors."
Everstream President and CEO Brett Lindsey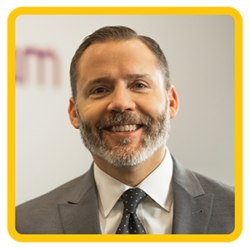 ---
Let's Do This
Everstream is in a unique position. We deliver the infrastructure needed to make businesses run. While others are consolidating; Everstream is growing. While others fear the unknown; we embrace change. While others manage from the boardroom; we're invited to pull up a chair. Everstream is growing and expanding, and poised to continue doing so. When you're part of our team, you're part of that adventure. Are you ready to jump in?
At Everstream, we value transparency, culture and work/life balance. If you share these ideals, we invite you to consider joining the team.